Электронный стедикам Moza Lite 2 3-Axis Motorized Gimbal Stabilizer (Basic)
Product Highlights
·         8.8 lb Load Capacity
·         Keeps Horizon Level & Counteracts Drift
·         Upright, Underslung, and Briefcase Modes
·         Bluetooth Interface for Configuration
·         Modular Design with Detachable Handlebar
·         2800mAh Battery & Charger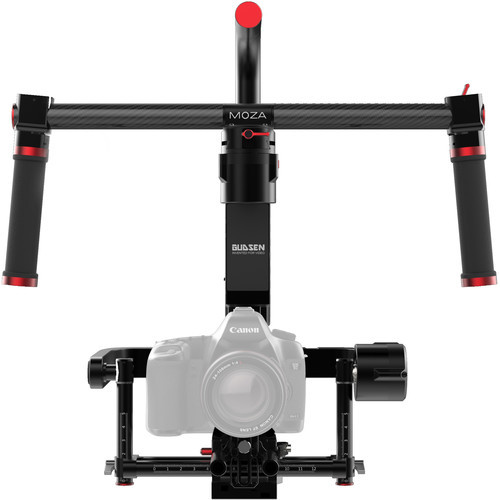 Using advanced FOC algorithms and powerful motor with encoders for improved precision control, the MOZA Lite 2 makes it easy to capture smooth, stabilized handheld footage. Featuring a magnesium alloy frame, the motorized 3-axis gimbal weighs in at 4.8 lb and supports loads up to 8.8 lb, making it suitable for a wide range of mirrorless, DLSR, and compact cinema cameras. Three distinct operating modes lets users choose the mode the best suits the situation, with each mode offering follow and locked gimbal stabilization options. Adding to the stabilizer's versatility is a detachable handlebar that functions as a quick release system for easy assembly and disassembly, while facilitating attachment to a variety of platforms, such as tripods, cranes, rigs, and drones.
The MOZA Lite 2 can be setup in a matter of minutes, with advanced calibration and tuning done using the MOZA Assistant app on a Bluetooth-connected iOS or Android mobile device. For full control as you operate, an optional wireless thumb controller is available, which features a OLED menu display for intuitive configuration and gimbal movement control. The controller can also be used to start/stop video recording and adjust focus with select cameras and lenses. Included in this Basic package are a 2800mAh battery, battery charger, and camera mounting plate.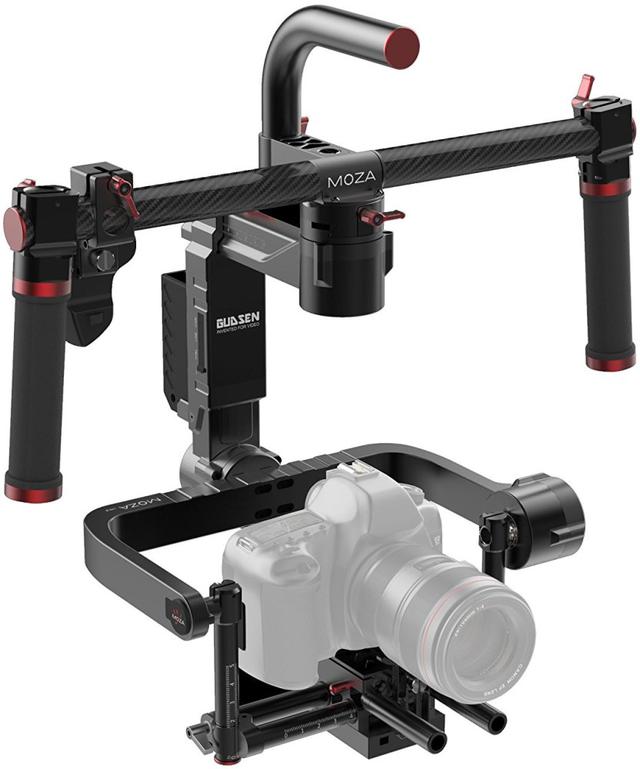 Features
·         3-axis motorized gimbal stabilizer
·         8.8 lb load capacity
·         Tool-less balancing and quick setup
·         Modular designed with detachable handlebar
·         Advanced FOC algorithm technology
·         Powerful PMSM Motors with high-resolution digital positioning motors
·         Lightweight magnesium alloy construction
·         Bluetooth 4.0 connectivity for remote calibration and tuning on iOS or Android device running MOZA Assistant app
·         Optional multi-functional wireless thumb controller
·         Intelligent 2800mAh battery provides 4 to 8 hours of use
Operating Modes
Upright Mode - As known as inverted mode, this flips the gimbal upside down, letting you position the camera at or above eye level. This mode is also best when mounting the stabilizer to the top of a vehicle or other support device
Briefcase Mode - Ideal low-angle shots and narrow spaces, this mode turns the vertically to hold your camera at leg level
Underslung Mode - The default operating mode, where the gimbal is positioned underneath the handlebars, placing your camera at chest level. This mode is also ideal when mounting the gimbal to a drone
Follow Modes
Pan - Camera follows pan axis movement, tilt axis and roll axis locked
Tilt - Camera follows tilt axis movement, pan axis and roll axis locked
Pan & Tilt - Camera follows both pan and tilt axes movement, roll axis locked
All-Lock - Locks camera in place along pan, tilt, and roll axes
Compatible Cameras
The MOZA Lite 2 is compatible with a variety of camera and lens combinations weighing up to 8.8 lb. The following cameras are compatible:

Canon 5D Mark II, 5D Mark III, 6D, 60D, 7D, 70D
Sony a7, a7S, a7R, a7 II, a7R II, a7S II
Panasonic GH3, GH4
Nikon D800
Blackmagic Pocket Cinema Camera, Cinema Camera, Production Camera 4K
Load Capacity

8.8 lb (4 kg)

Rotation Range

Pan: 360°
Tilt: -175° to +135°
Roll: -75° to +235°

Controlled Angle Accuracy

±0.02°
Inputs and Outputs

1 x Mini-USB control port
1 x Micro-USB port
1 x PPM output (standard PPM protocol)
1 x CAN output (standard CAN protocol)

Bluetooth

Bluetooth 4.0
Max. Distance: 16.4' (5 m)

Remote

2.4 GHz
Max. Distance: 164' (50 m)
Working Voltage

14.8 VDC

Current

Resting: 20 mA
Quiescent: 100 mA
Dynamic: 300 mA

Maximum Motor Speed

3 rotations per second
Supported Camera Dimensions

7.1 x 5.9 x 9.8" (18 x 15 x 25 cm)

Dimensions

Unfolded: 19.7 x 9.8 x 13.8" (50 x 25 x 35 cm)
Waterproof Case: 23.6 x 15.4 x 9" (60 x 39.2 x 23 cm)

Weight

4.85 lb (2.2 kg)
Capacity

2800 mAh

Battery Life

4 hours

Output Voltage

14.8 VDC

Cut-Off Voltage

12 VDC

Output Current

2 A
Package Weight

11.0 lb

Box Dimensions (LxWxH)

21.5 x 14.5 x 8.0"