Электронный стедикам MOZA Pro 3-Axis Gimbal
Product Highlights
·         Designed for Cine Cameras up to 22 lb
·         Also Supports Small & Mid-Size Cameras
·         3 Brushless Motors with Response Sensors
·         360° Continuous Yaw Axis
·         Underslung, Upright, and Briefcase Modes
·         Includes MOZA Wireless Thumb Controller
·         Solid Magnesium Aluminum Construction
·         4-Hour Operation with Included Battery
·         Power Distribution Unit for Accessories
·         MOZA Assistant App (iOS/Android)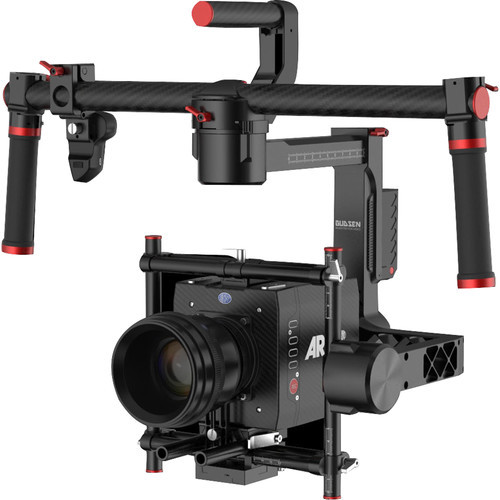 The MOZA Pro 3-Axis Gimbal from Moza is designed for full-size cine cameras weighing up to 22 lb and also supports small and mid-size DSLRs and mirrorless cameras.
The MOZA Pro features three brushless motors with responsive sensors and high-resolution position encoders integrated into each one for precision adjustment of the camera's motion. Upon detecting any movement, the sensors measure and pass the movement information to the processor for transferring signals. The MOZA Pro then uses advanced algorithms to apply these measurements and direct the motors to accurately control the pan, tilt, and roll directions.
The MOZA Pro offers three operation modes that you can switch between for optimal comfort in varying conditions. Underslung Mode is the standard mode in which you hold the MOZA right in front of you at chest level. Upright Mode, also known as Inverted Mode, is the ideal choice when the subject is at or above eye level. Upright Mode allows you to flip the MOZA upside down to achieve the best shooting angle possible in such cases. In Briefcase Mode you can carry the gimbal close to the side of your leg (like a briefcase) to capture movement near the ground or in narrow spaces.
The MOZA Pro is machined from solid magnesium aluminum and finished with a sleek and environmentally-friendly coating. It's robust yet lightweight at only 7.3 lb. It's also designed to set up quickly and easily. The MOZA Pro has tool-less assembly and takes just 3 minutes to set up and adjust the balance.
Included with the gimbal is a MOZA Wireless Thumb Controller that provides you with numerous controls right at your fingertips. You can use it first-hand attached to the gimbal, or a second operator can control it from up to 328 ft away. The controller allows you to trigger camera recording and gimbal movement, change speed and adjust focus, and more.
The MOZA Pro runs for up to four hours using the included 2800 mAh battery. In addition, it houses a compact Power Distribution Unit on the bottom that can be used to supply power to accessories via a regulated USB connector and 12V DC port. You can power transmitters, follow focus units, and similar accessories. The Power Distribution Unit also offers a variety of expansion options.
The MOZA Pro also comes with the MOZA Assistant app (iOS/Android), which allows you to configure the gimbal over Bluetooth. It lets you tune parameters, view device information, perform sensor calibration, and control the keyboard. The MOZA Assistant software (Mac/Windows) is also included for upgrading firmware. The MOZA Pro is supplied with everything else you need to get started right out of the box.
Key Features
·         Designed for full-size cine cameras up to 22 lb
·         Also supports small and mid-size cameras
·         Three brushless motors with responsive sensors and high resolution encoders
·         360° continuous yaw axis
·         Underslung, Upright, and Briefcase modes
·         Includes MOZA Wireless Thumb Controller (328 ft range)
·         Solid magnesium aluminum construction
·         4-hour operation with included 2800 mAh battery
·         Integrated Power Distribution Unit for powering accessories and expansion
·         MOZA Assistant app included (iOS/Android)
Supported Cameras
Virtually any camera from small to full-size weighing up to 22 lb is compatible. The following are some of the supported cameras. 

 
·         Sony F55, FS5, FS7, FS100, FS700
·         Canon EOS 1D, C100, C300, C500, T5i
·         RED Raven, Epic, Dragon, Scarlet, Weapon
·         ARRI Alexa Mini, Alexa M
·         Blackmagic Cinema Camera, URSA Mini
Wireless Thumb Controller
Supported Cameras

Start/Stop Recording Control: 
Canon 5D II, 5D III, 6D, 60D, 7D, 70D 
Sony a7S, a7S II, a7R, a7R II 
Panasonic GH4, GH3 
Blackmagic Production Camera, Cinema Camera, Pocket Camera 

Focus Control:
Canon 5D II, 5D III, 6D, 60D, 7D, 70D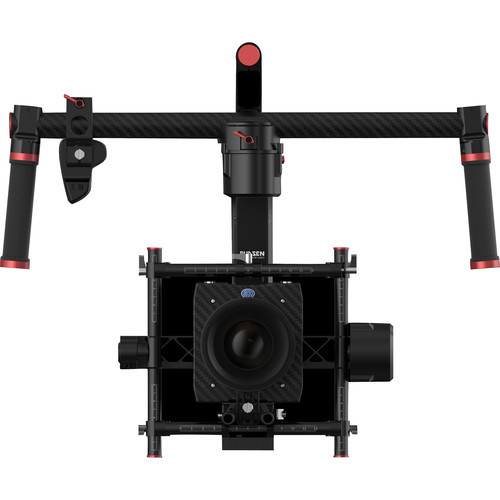 Payload

22 lb (10 kg)

Angular Vibration Range

0.02°

Mechanical Endpoint Range

Yaw Axis: 360° continuously 
Tilt Axis: up 135° to down 175° 
Roll Axis: left 75° to right 235°

Static Current

200 mA

Dynamic Current

2000 mA

Lock Rotor Current

10000 mA

Bluetooth

Bluetooth 4.0 
16.4 ft (5 m) control range

Control Interface

2.4G 
164 ft (50 m) remote control range

USB Connection

1 x Micro USB input 
1 x Mini 10-pin output

PPM

Generic PPM protocol

CAN

Generic CAN protocol

Power Output

Mini USB, 5 V/1 A 5-pin

DC Output

3.5 mm, 14.8 V, 0.8 A

Battery

Capacity: 2800 mAh 
Battery Life: > 2 hrs 
Working Voltage: 14. 8 V 
Working Temperature: 32 to 122°F (0 to 50°C) Charger Output Voltage: 16.8 V

Material of Construction

Solid magnesium aluminum

Controller

Wireless Frequency: 2.4G 
Range: 328 ft (100 m) 
Battery: 3.8V, 600 mAh 
Working Current: 50 mA 
Locked Current: 10 mA 
Standby Time: Approx. 24 hours 
Charging Voltage: 5 V 
Charging Time: Approx. 2 hours 
Weight: 3.5 oz (100 g)

Dimensions

22.5 x 15.7 x 18.9" (57 x 40 x 48 cm) (with Extension Arm) 

22.5 x 11.8 x 18.9" (57 x 30 x 48 cm) (without Extension Arm) 

Camera Tray Dimensions: 
10.4 x 9 x 7" (26.5 x 23 x 17.8 cm) (with Extension Arm) 

10.4 x 7.2 x 7" (26.5 x 18.3 x 17.8 cm) (without Extension Arm)

Weight

7.9 lb (3.6 kg) (with handle bar and battery included)
Package Weight

40.5 lb

Box Dimensions (LxWxH)

30.0 x 21.5 x 10.6"