Электронный стедикам Moza Air 3-Axis Motorized Gimbal Stabilizer Kit with Wireless Thumb Controller
Product Highlights
·         Stabilizer for Mirrorless & DSLR Cameras
·         Single- or Dual-Grip Modes
·         Includes Wireless Thumb Controller
·         Control & Calibrate Gimbal Wirelessly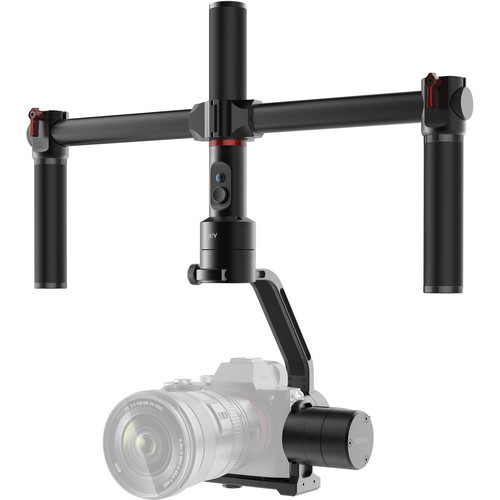 Moza Air Overview
The Moza Air 3-Axis Motorized Gimbal Stabilizer Kit with Wireless Thumb Controller offers both direct and remote control of your stabilized camera. Hold the Moza Air gimbal with either one or two hands for slim-profile and wider center of gravity advantages, respectively. Connect the Wireless Thumb Controller to maintain control over the gimbal, separate from the operator. The Wireless Thumb Controller can both control the gimbal as well as calibrate its motor response. See below for more information on the items included in this kit.
·         Moza Air 3-Axis Motorized Gimbal Stabilizer
Compact and configurable, the MOZA Air 3-Axis Motorized Gimbal Stabilizer can stabilize your mirrorless or DSLR camera for smooth, professional-looking footage. Since the Air can be used in either one or two-handed configurations, supporting setups that approach the 7-pound payload capacity won't sacrifice usability. The built-in handgrip control offers directional control and mode selection at your fingertips. Other control options include using the free smartphone app or the separately available Wireless Thumb Controller. The Thumb Controller is especially useful in the two-handed configuration. Auto-tuning can be done through the app to ensure optimal performance. The MOZA Air itself and the included batteries, charger, cables, and accessories all fit in the included hard carry case for convenient storage and transport.
o    Aircraft-grade aluminum construction
o    Dual handle for capturing stable handheld shots
o    MOZA Assistant app allows you to create smooth, dynamic time-lapse video on your smartphone or tablet
o    Humanized interval and duration settings
o    Can adapt to your specific shooting scenario with two handheld modes
o    Can be mounted to a tripod, slider, jib, crane, or anything else via the 1/4"-20 screw hole at the bottom
o    Slip-ring technology employed in the motors allows the gimbal to rotate 360° on yaw, tilt, and roll axis settings, allowing for better camera movement
o    Handgrip houses three lithium batteries with 2000mAh capacity that offers a standby time of four hours
o    Yaw-follow, pitch-follow, yaw-pitch follow, roll-follow, and all-lock operation modes
o    Auto-center shooting mode minimizes the need for frequent adjustments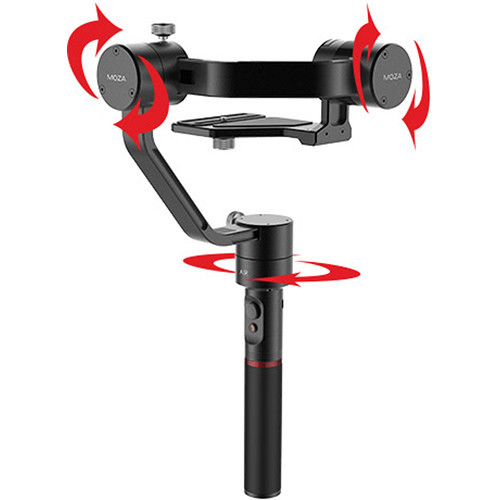 ·         Moza Air 3-Axis Motorized Gimbal Stabilizer
Payload

7 lb (3.2 kg)

Mechanical Endpoint Range

Yaw Axis: ±360° continuously
Tilt Axis: ±360° continuously
Roll Axis: ±360° continuously

Angular Vibration Range

0.02°

Bluetooth

Bluetooth 4.0

Bluetooth Range

16.4' (5 m)

Control Interface

2.4 GHz

Remote Control Distance

164' (50 m)

USB Connection

Input: Micro-USB
Output: Mini 10-pin

Protocol

Generic CAN Protocol

Working Temperature

23 to 131°F (-5 to 55℃)

Dimensions

Not specified by manufacturer

Weight

2.4 lb (1.1 kg)
· 
Battery Model Supported

26350

Battery Capacity

2000 mAh

Battery Life

Approximately 12 hours

Voltage

3.7 V

Working Temperature

32 to 104°F (0 to 40℃)
· 
Box Dimensions (LxWxH)

16.2 x 13.6 x 6.0"
·         Moza Wireless Thumb Controller for Moza Lite2 Stabilizer
Accessory Type

Wireless remote control

Weight

3.53 oz
· 
Intended For

Lens, camera
· 
Type

Radio

Operational Range

164 ft
· 
Packaging Info

Box Dimensions (LxWxH)

4.0 x 3.8 x 2.2"