Вспышка Yongnuo YN860Li Lithium Speedlite
Product Highlights
·         Wireless Transceiver with Range of 328'
·         Guide Number: 60' at ISO 100 and 200mm
·         Zoom Range: 24-200mm (Wider with Panel)
·         Tilts Upwards 90°
·         Rotates 270°
·         Recycle Time: Up to 1.5 Sec
·         Optical Slave Functionality
·         Up to 700 Full-Power Flashes
·         1/200-1/20,000 Sec Flash Duration
·         Runs on 1800mAh Li-Ion Battery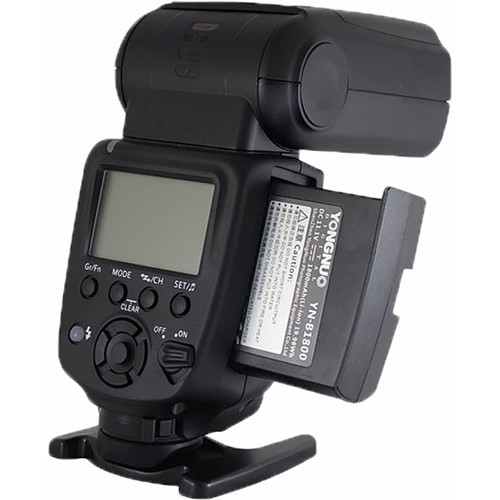 Yongnuo YN860LI Overview
With a guide number of 60' at ISO 100 and 200mm, this YN860Li Lithium Speedlite from Yongnuo is a portable lighting option for those that do not require TTL functionality. Built into it is a wireless transceiver, allowing it to be fired remotely at distances of up to 328' or used as a master to directly control the mode and output of compatible flashes. Additionally, it can also be used as an optical slave for multi-flash setups without radio transmission. The speedlight offers a wide zoom range of 24 to 200mm, with the ability to have its wide panel pulled out for an ever wider spread and softer light quality.
The YN860Li runs on a rechargeable 1800mAh lithium-ion battery, lending it a fast recycle time that does not exceed 1.5 seconds as well as the ability to fire 700 full-power pops per charge. High-speed continuous shooting is supported, and the flash also boasts a multi mode for configuring a stroboscopic effect. The entire unit rotates 270° horizontally and tilts 90° up for easy bouncing in nearly any direction. Flash durations from 1/200 to 1/20,000 are possible depending on settings.
Wireless Features
·         When used as a master, can directly control the flash mode, flash output, stroboscopic settings, and focal length of YN860Li, YN660, YN560IV, YN560III, or YN968N
·         When used as a slave, can receive triggering signal from YN860Li, YN560IV, YN660, YN560-TX II, RF605, RF603 II, and RF-602
·         16 channels and 6 groups for multi-flash programming
Other Features
·         Eight power levels, from 1/1 to 1/128
·         LCD panel for viewing settings, controlled via dial and six buttons
·         Two optical slave modes: S1 for synchronous firing, S2 to skip pre-flash
·         Color temperature of 5600K, can be used outdoors in daylight without creating notable color casts
·         Standard PC port for wired connection
·         Overheat protection to keep equipment safe during heavy use
·         Firmware upgrades available by connecting to computer via USB port
·         Protecting bag and mini stand included for ease of use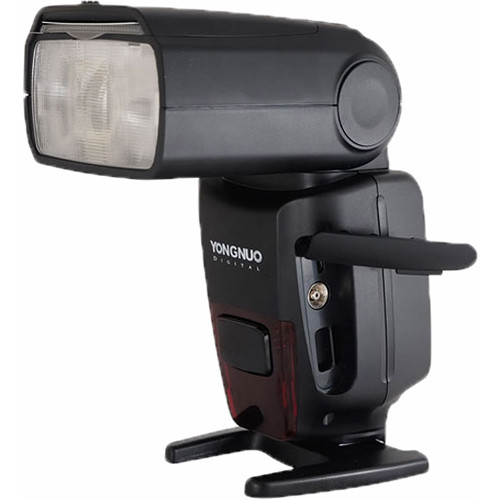 Yongnuo YN860LI Specs
Mount

Shoe

Guide No.

60'  / 18.29 m ISO 100 at 200 mm Position

Exposure Control

Manual

Vari-Power

Manual: 1/1 - 1/128

Bounce Head

Yes, -7 to +90°

Swivel Head

Yes, 270°

Coverage

24 - 200 mm

Distance Range

Not Specified by Manufacturer

Off-Camera Terminal

PC

Recycle Time

Approximately 0 - 1.5 Seconds

Flash Duration

1/200 - 1/20000 sec

Flash-Ready Indicator

Yes

Compensation

Not Specified by Manufacturer

Slave Timing Modes

Instant Sync
Skip Preflash

Wireless Operation

Method: RF
Distance: Up to 328.08' / 100 m
Mode: Master, Slave
Method: Optical pulse
Distance: Up to 82.02' / 25 m
Mode: Optical Slave

Wireless Communication Channels

16 Channels

Wireless Groups

6 Groups

Power Source

1x Proprietary Rechargeable Li-Ion Battery

Dimensions (W x H x D)

3.0 x 8.1 x 2.2" / 7.5 x 20.6 x 5.6 cm

Weight

14.25 oz / 404 g
Package Weight

2.2 lb

Box Dimensions (LxWxH)

8.7 x 6.1 x 3.7"